Facility in short
As the Facility department, our goal is clear: we integrate all our people, places and processes to ensure that everything sails smoothly at Ahold Delhaize's Global Support Office in Zaandam and some of its biggest brands, like Albert Heijn, Etos, Ahold Delhaize Coffee Company and Gall & Gall. We strive to provide an environment in which everybody feels happy, safe, included and able to perform to the best of their abilities.
Our support services include catering and cleaning services, security, parking policy, technical services, office design and decoration – and everything in between. To reach our goals, we look for the most innovative and sustainable solutions, in collaboration with the teams and partners of all our international family of brands. Working for such a huge organization and some of its biggest brands makes for a fascinating, incredibly dynamic – yet also sometimes complex – environment.
Teamwork really makes the dream work
We're a very diverse team – in terms of age, background and personality – with a deep ambition to achieve the best results for all our colleagues at the different brands. It's because of our diverse profiles and approaches that we're able to achieve this. We truly work together, in an open atmosphere in which everybody's opinions are genuinely valued and listened to. We try new things, make mistakes and learn from them.
Opportunity, innovation and growth
Being part of a bigger organization like Ahold Delhaize offers endless opportunities for growth. Because we have a variety of (international) brands with differing needs and wants living in one "home," our team is extremely adaptive and flexible. We focus greatly on improvement and sustainability, and encourage everybody to contribute their ideas and suggestions, so that we innovate and grow together.
Associates take care of all facility related matters within support office, home shop centers and distribution centers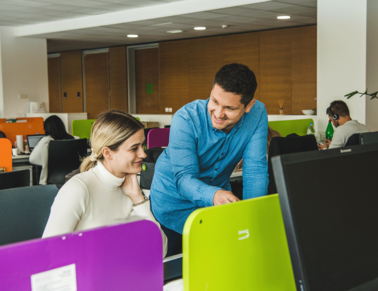 Number of sub-teams within facility department (KADZ, Warehousing logistics, Warehousing E-commerce, Business Support, Safety & Aftercare & Project Management)
Facility is involved in a variety of different projects, many of them focused on making our locations more sustainable and energy efficient.