Health & Sustainability in short
As a leading global food retailer, we have a role to play in today's world and the challenges it faces. It's a role we take on passionately and wholeheartedly. At Ahold Delhaize, we believe that what's healthy and sustainable should be accessible and available to all. This is what we aim to achieve through our 'Grounded in Goodness' strategy, which focuses on healthier people and a healthier planet. It's based on the idea that the world's health and climate crises are intrinsically linked. If we get it right for the people, we usually get it right for the planet, too.
That's the main goal and mission of our Health & Sustainability team: to ensure people – our customers, colleagues and communities – make healthier and more sustainable choices, and live on the planet in a healthier, more sustainable way. Our brands' marketing, reward programs and store designs ensure that what's healthy and sustainable is affordable, accessible and inclusive for all. The teams across our family of brands innovate continuously to make products more nutritious and sustainable. We focus on the fundamental aspects of reaching net-zero carbon emission, eliminating unnecessary plastic packaging and reducing food waste, and strive to optimize our performance in regard to our sustainability goals. We look at our short- and long-term goals, assess potential risks, costs and benefits, and set out the strategic roadmaps toward 2030. We constantly ask ourselves which goals we want to achieve, and how best – and quickly – we can achieve them. We're transparent about highlighting our progress and the choices we make, and why.
Our Health & Sustainability global team is based at Ahold Delhaize's HQ in Zaandam and consists of around 15 people. We're divided into sub teams: the Climate and Environment Team; Health & Sustainable Diets; and Environmental, Social and Governance (ESG). In addition, each local brand has its own sustainability team, too. We hold regular meetings and sessions in which we discuss our challenges, progress and best practices. As the global team, we assess the bigger challenges and set goals for our local brands to address. Those targets are communicated to our global family of brands, who then design their own strategies, and translate them into actions to reach their sustainability objectives. Our collaboration can best be compared to a sports field: together with our brands, we decide which field we play on, set the goalposts and keep the score. The players – our brands – are the most active ones on the field: it's up to them to score the goals.
Become an expert in your field
Our team is a perfect combination of strategic professionals and sustainability experts – who can tell you anything and everything about carbon emissions, healthy and sustainable diets, plastic product packaging, how we can reduce food waste, and pretty much every topic in this field. With more than five nationalities and a wide range of ages, we're also a diverse team. There are various courses related to sustainability and our work available to you, both inside the organization and externally. If you have a proactive, curious mindset and are eager to develop into a true sustainability expert, this is the team for you.
"Our approach ensures the decisions we make are grounded in doing the right thing for people and the planet. We work closely with our partners and our brands to empower colleagues, investors and customers to join us on this journey. It's a greater goal we strive for passionately every day."

Harm-Jan Pietersen, Director Strategy & Engagement, Ahold Delhaize
Small examples, big impact
Acting responsibly today is imperative to securing a better tomorrow for generations to come. By ensuring our brands make different – significant – choices in the short term, we can reach our long-term goals for our people and the planet. Small actions – such as increasing the vegetarian options in our supermarkets and making use of more and more electric trucks – lead to a big impact.
Health and Sustainability as a guiding principle
We do everything in our power to make sure health and sustainability become a driving force behind every decision this organization makes. It's the only way we can really reach our goal: empowering our customers, colleagues and communities to live more sustainable, healthier lives.
% of our total electricity consumption originates from renewable sources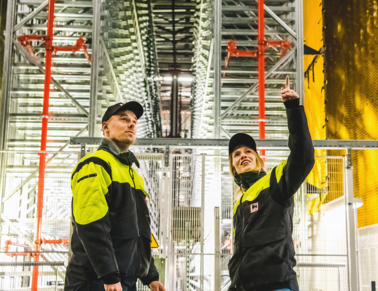 % of our own brand primary plastic packaging is reusable, recyclable or compostable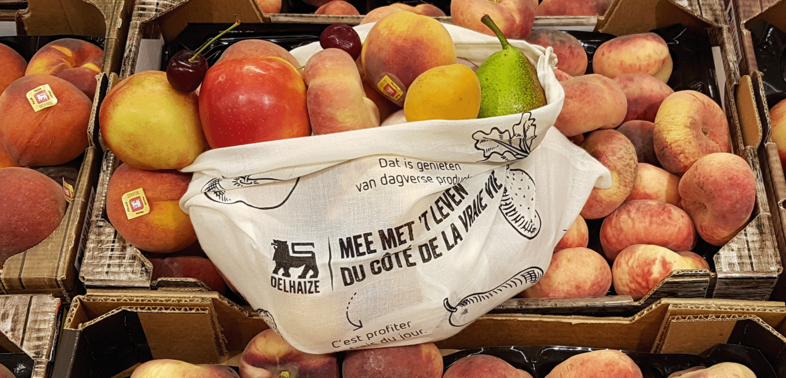 % of unsold food is donated to organizations that support people in need
billion euro is generated from the sale of our own brand healthy food (12.5 billion to be precise)